TEA
You will find premium teas at Café Cognito
By the cup, choose from a good variety which includes Chai Spice, Chamomile, Earl Grey, English Breakfast, Green Tea, Jasmine Blossom, Peppermint and Premium Green.

Try specialty drinks such as Moncton Fog, London Fog, and homemade Chai Latté.


Chai tea was the choice beverage of royalty in ancient courts of India and Siam. Today, it is commonly referred to as India's national drink and its popularity is increasing in the West. The classic components of Chai tea are black tea and spices common in India such as clove, fennel, aniseed, cardamom and cinnamon. Chai tea is not only loved for its taste but also for its positive effects on mind and body. The Chai tea served at Café Cognito is homemade.
Teas served by the cup:
Chai Spice, Chamomile, Earl Grey, English Breakfast, Jasmine Blossom, Peppermint, and Premium Green.
ESTATE TEA
Do you want to treat a friend or yourself? A unique gift that brings enjoyment many times over, is a package of estate tea leaves from India, Sri Lanka, or China. Available for sale on retail shelf are packages of many of the finest teas in the world.
DARJEELING, NAMRING UPPER ESTATE
2nd FLUSH FTGFOP1
... sweet floral leaves, full silvery tips, medium body, complex with subtle notes of fruit and spice...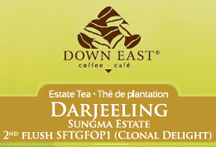 DARJEELING, SUNGMA ESTATE
2nd FLUSH SFTGFOP1 (COLONIAL DELIGHT)
...ORGANIC, ample silver tips, highly aromatic leaves, balanced flavour: rich & strong and sweet & smooth...
ASSAM, HATTIALLI ESTATE
STGFOP
...abundance of golden tips, bright and very smooth cup, full bodied, silky mouth feel and sweet tea flavour...
CEYLON, KENILWORTH ESTATE
...rich, classic fruity aroma, medium to full body, takes milk well, a fresh new "old favourite"...
EARL GREY
... classic combination of high quality black Ceylon tea leaves with oil of bergamot...
DECAFFEINATED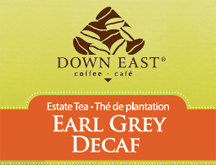 EARL GREY DECAF
...decaffeinated black Ceylon tea leaves blended with oil of bergamot, makes a zesty cup of tea...

WHITE
PAI MU TAN FINEST GRADE
...rare WHITE TEA with abundance of silver buds... produces a light, sweet, smooth and delicate taste... this tea allows for several infusions...
GREEN
GUNPOWDER TEMPLE OF HEAVEN PINHEAD
...tighly rolled balls of green tea resembling gunpowder pellets described as Temple of Heaven...
JASMINE SILVER TIP
...fine quality China green tea, scented with jasmine flowers, very light, sweet and delicate...
ZHEJING MAO FENG GREEN
...deep green leaves, sweet and pleasing aroma, medium bodied, smooth with fine mouth feel...
Special orders by phone:
1-888-224-2233